Here is a recipe for classic homemade pizza: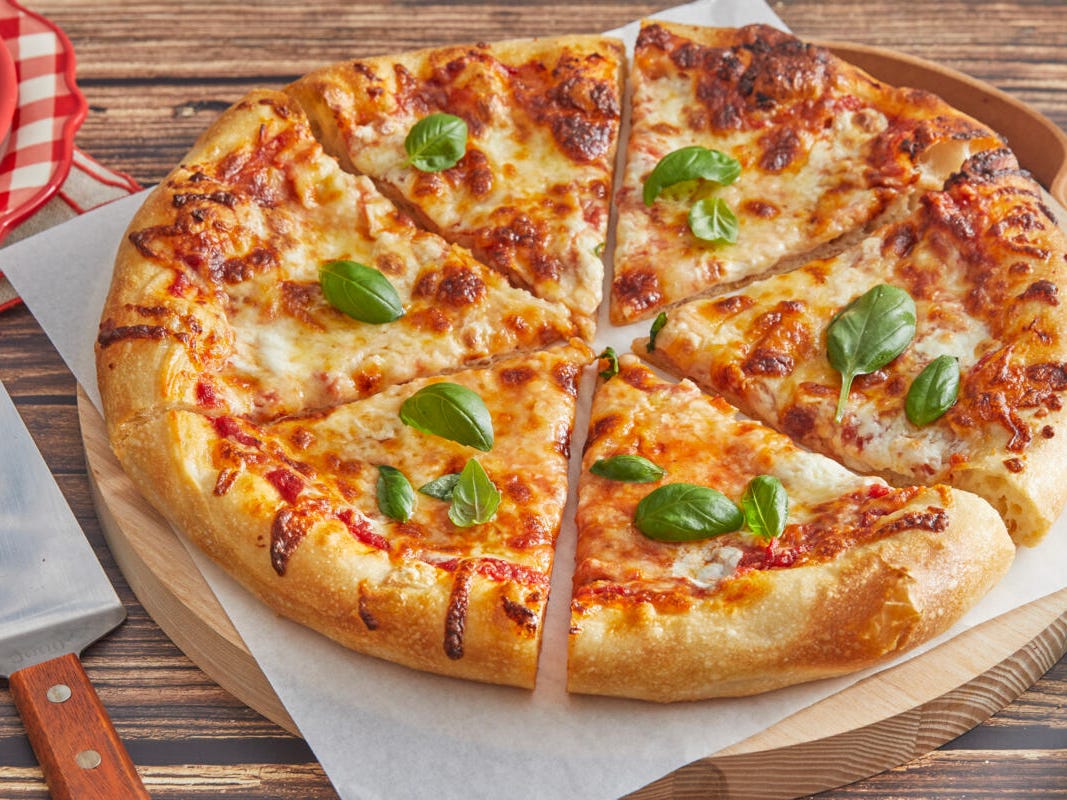 **Ingredients:**
For the dough:
* 1 1/2 cups (355 ml) warm water (105-115°F)
* 2 teaspoons (7 g) active dry yeast
* 1 teaspoon (5 g) granulated sugar
* 3 1/2 cups (440 g) all-purpose flour
* 2 tablespoons (28 g) olive oil
* 1 1/2 teaspoons (9 g) salt
For the sauce:
* 1 (28-ounce) can whole peeled tomatoes, drained and crushed
* 1/4 cup (60 ml) extra-virgin olive oil
* 2 cloves garlic, minced
* 1 teaspoon dried oregano
* 1/2 teaspoon salt
* 1/4 teaspoon crushed red pepper flakes (optional)
For the toppings:
* 12 ounces (340 g) shredded mozzarella cheese
* Your favorite pizza toppings, such as pepperoni, sausage, mushrooms, bell peppers, onions, and olives
**Instructions:**
1. Make the dough: In a large bowl, whisk together the warm water, yeast, and sugar. Let stand for 5 minutes, until the yeast is foamy.

2. In a separate bowl, whisk together the flour and salt. Add the flour mixture to the yeast mixture, along with the olive oil. Stir with a wooden spoon until a dough forms.

3. Turn the dough out onto a floured surface and knead for 5 minutes, until smooth and elastic.

4. Place the dough in a lightly oiled bowl, cover with plastic wrap, and let rise in a warm place for 1-2 hours, until doubled in size.

5. Make the sauce: In a medium saucepan, heat the olive oil over medium heat. Add the garlic and cook for 30 seconds, until fragrant.

6. Add the tomatoes, oregano, salt, and red pepper flakes (if using). Bring to a simmer and cook for 15 minutes, until the sauce has thickened.

7. Preheat the oven to 450°F (230°C).

8. Lightly grease a pizza pan or baking sheet.

9. Punch down the dough and divide it in half. Roll each half of dough into a 12-inch circle.

10. Transfer the dough to the prepared pizza pan or baking sheet.

11. Spread the sauce evenly over the dough.[Image of pizza sauce]

12. Sprinkle with mozzarella cheese.

13. Add your favorite toppings.

14. Bake for 10-15 minutes, until the crust is golden brown and the cheese is melted and bubbly.

15. Let cool for a few minutes before slicing and serving.
**Tips:**
* For a crispier crust, preheat your pizza stone or baking sheet in the oven for 30 minutes before baking the pizza.
* If you don't have a pizza stone or baking sheet, you can bake the pizza on a regular baking sheet.
* Let the pizza rest for a few minutes before slicing to allow the cheese to set.
* Get creative with your toppings! There are endless possibilities.
Enjoy!