Here's a recipe for a creamy chicken Alfredo pasta dish: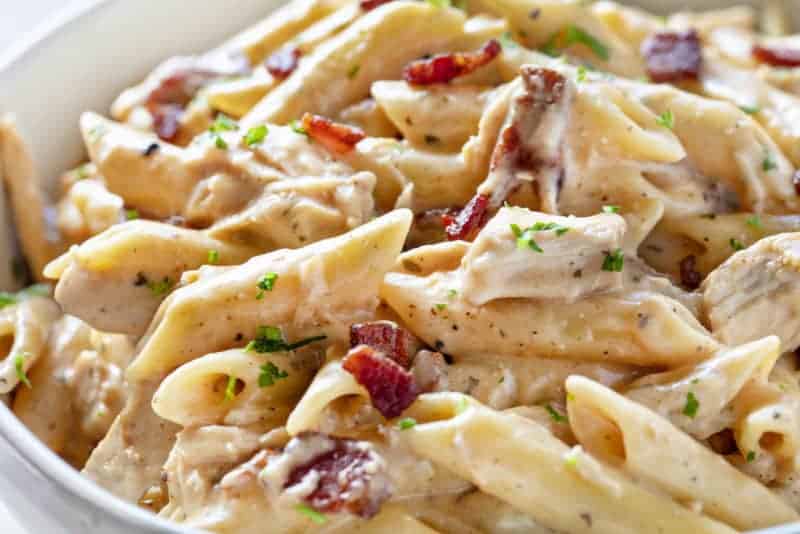 **Ingredients:**
For the pasta:
* 1 pound pasta (penne, fettuccine, or your favorite pasta shape)
* Salt and pepper to taste
For the Alfredo sauce:
* 2 tablespoons butter
* 2 cloves garlic, minced
* 1/4 cup all-purpose flour
* 3 cups milk
* 1/2 cup grated Parmesan cheese
* 1/4 cup grated Romano cheese
* 1 teaspoon dried oregano
* 1/2 teaspoon salt
* 1/4 teaspoon black pepper
For the chicken:
* 1 pound boneless, skinless chicken breasts, cut into bite-sized pieces
* 1 tablespoon olive oil
* Salt and pepper to taste
Instructions:
1. Cook the pasta according to the package directions.

2. While the pasta is cooking, melt the butter in a large saucepan over medium heat. Add the garlic and cook for 30 seconds, until fragrant.

3. Whisk in the flour and cook for 1 minute, until the mixture is smooth and light brown.

4. Gradually whisk in the milk, whisking constantly to prevent lumps from forming.

5. Bring the sauce to a simmer and cook for 5-7 minutes, until thickened.

6. Stir in the Parmesan cheese, Romano cheese, oregano, salt, and pepper.

7. In a separate skillet, heat the olive oil over medium-high heat. Add the chicken and cook for 5-7 minutes, until cooked through and browned. Season with salt and pepper to taste.

8. Drain the pasta and add it to the sauce. Toss to coat.

9. Add the cooked chicken to the pasta and stir to combine.

10. Serve immediately.
**Tips:**
* For a richer flavor, use heavy cream instead of milk.
* You can also add other vegetables to this dish, such as broccoli or spinach.
* If you don't have Parmesan or Romano cheese, you can substitute them with other grated hard cheeses, such as mozzarella or Asiago.
* This dish is also great with grilled or rotisserie chicken.
* Leftover pasta can be stored in the refrigerator for up to 3 days. Reheat in a skillet over medium heat until heated through.
Enjoy!