Millionaire's shortbread is a delightful treat consisting of a layer of shortbread, a layer of caramel, and a layer of chocolate. Here's a classic recipe for you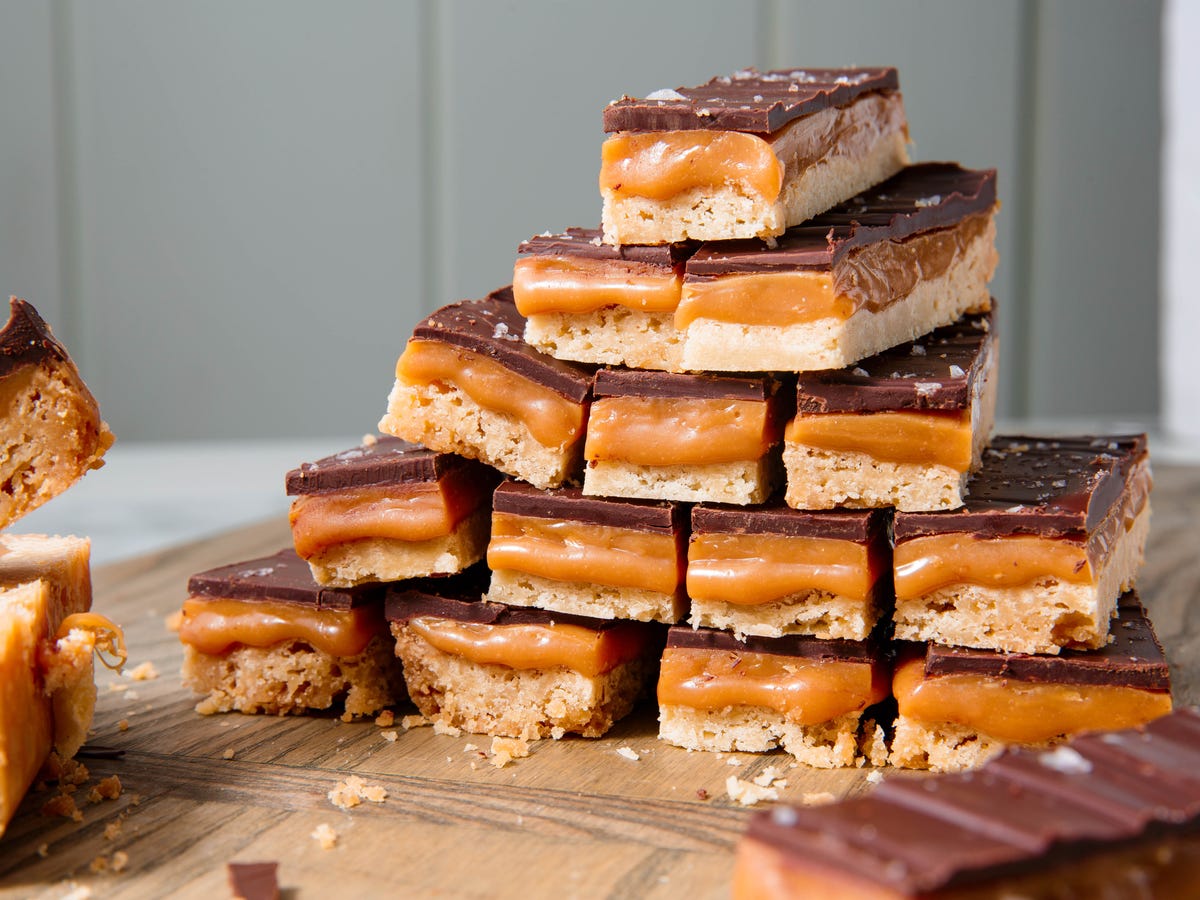 **Ingredients:**
**For the Shortbread:**
– 1 cup (2 sticks) unsalted butter, softened

– 1/2 cup granulated sugar

– 2 cups all-purpose flour
**For the Caramel:**
– 1 can (14 ounces) sweetened condensed milk

– 1/2 cup unsalted butter

– 1/2 cup brown sugar

– 1 tablespoon corn syrup (optional, for added smoothness)

– 1 teaspoon vanilla extract
**For the Chocolate Topping:**
– 8 ounces semi-sweet or bittersweet chocolate, chopped

– 1/4 cup unsalted butter
**Instructions:**
**1. For the Shortbread:**
1. Preheat your oven to 350°F (175°C). Grease a 9×9-inch square baking pan.

2. In a large bowl, cream together the softened butter and sugar until light and fluffy.

3. Gradually add the flour and mix until the dough comes together.

4. Press the shortbread dough evenly into the bottom of the prepared baking pan.

5. Bake in the preheated oven for about 20-25 minutes or until the edges are lightly golden. Allow it to cool completely.
**2. For the Caramel:**
1. In a medium saucepan, combine the sweetened condensed milk, butter, brown sugar, and corn syrup (if using).

2. Heat the mixture over medium heat, stirring constantly, until the butter is melted and the sugar is dissolved.

3. Bring the mixture to a gentle boil, stirring continuously. Cook for about 5-7 minutes or until the caramel thickens and turns a golden brown color.

4. Remove the caramel from heat, stir in the vanilla extract, and let it cool slightly.

5. Pour the caramel over the cooled shortbread layer, spreading it evenly. Allow it to set.
**3. For the Chocolate Topping:**
1. In a heatproof bowl set over a pot of simmering water (double boiler), melt the chocolate and butter together, stirring until smooth.

2. Pour the melted chocolate over the caramel layer, spreading it evenly with a spatula.

3. Allow the chocolate to set. You can speed up this process by placing the pan in the refrigerator for about 1 hour.

4. Once set, remove from the refrigerator and let it come to room temperature before cutting into squares or bars.

Enjoy your delicious Millionaire's Shortbread!