Korma is a rich and creamy curry dish originating from the Indian subcontinent, particularly popular in Mughlai cuisine. It is characterized by its velvety texture, aromatic spices, and mild to medium heat. Traditionally, korma is prepared with bone-in chicken, but it can also be made with lamb, beef, or even vegetables.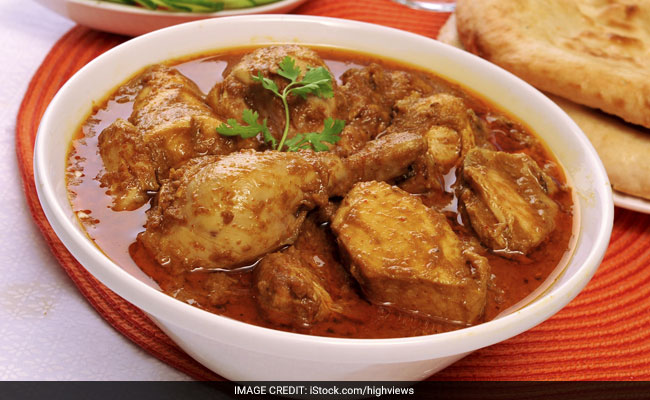 Here's a classic recipe for Chicken Korma:
**Ingredients:**
For the Korma Paste:

* 2 medium onions, finely sliced
* 3 cloves garlic
* 1 tablespoon grated ginger
* 1/2 cup cashew nuts or almonds, soaked in water for 30 minutes, drained, and blended into a smooth paste
* 1 tablespoon oil or ghee
* 1 teaspoon ground cumin
* 1 teaspoon ground coriander
* 1/2 teaspoon turmeric powder
* 1/2 teaspoon garam masala
* 1/4 teaspoon red chili powder (adjust to your spice preference)
* 1/2 teaspoon salt to taste
For the Chicken:
* 1 pound bone-in, skin-on chicken pieces (thighs or drumsticks)
* 1/2 cup plain yogurt
* 1 tablespoon oil or ghee
* Salt to taste
Garnishes (optional):
* Chopped fresh cilantro
* Chopped fresh mint
* Sliced red onions
* Sliced green chilies
**Instructions:**
1. Prepare the Korma Paste:
a. Heat the oil or ghee in a large skillet or pan over medium heat.
b. Add the sliced onions and fry until golden brown and softened.
c. Add the garlic, ginger, and fry for another minute until fragrant.
d. Add the ground cumin, coriander, turmeric powder, garam masala, red chili powder, and salt. Cook for a minute, stirring constantly, until the spices are fragrant.
e. Transfer the fried onions and spice mixture to a blender or food processor along with the soaked and blended cashew nuts or almonds. Blend until smooth and creamy.
2. Marinate the Chicken:
a. Place the chicken pieces in a large bowl.
b. Add the korma paste and yogurt. Mix well to coat the chicken evenly.
c. Marinate for at least 30 minutes, or preferably overnight in the refrigerator.
3. Cook the Chicken Korma:
a. Heat the oil or ghee in a large pot or Dutch oven over medium heat.
b. Add the marinated chicken pieces and cook until they turn golden brown on all sides.
c. Cover the pot with a lid and reduce the heat to low.
d. Simmer for 20-25 minutes, or until the chicken is cooked through and tender.
4. Garnish and Serve:
a. Garnish the korma with chopped cilantro, mint, sliced red onions, and green chilies, if desired.
b. Serve hot with basmati rice or naan bread.
Enjoy the rich and creamy flavors of this classic Chicken Korma!